We're pleased to inform you that a chapter by chapter summary, possible revision questions and answers that may be set from the 2021 Official JAMB novel; "The Life Changer" is now available on the. Continue reading to see what you can expect…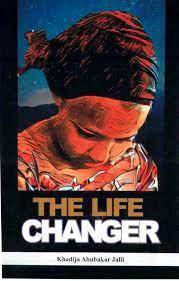 Introduction to The Life Changer
Khadijat  Abubakar Jali's "The life changer" explores several narratives of life on campus.  The text uses the voice of Ummi to narrate various campus challenges. The narration follows the adventures of Salma and her roommates in the university as they journey through social and academic upheaval.
The life changer explicitly cuts across the changes that follow a person's life in the university. The university is known to be a mystery to people who have never experienced it. This text shows the need for parental guidance and counselling in a new world where freedom is tied to many complexities such as temptation, lies, distrust, betrayal, bad association, crime, bribery and corruption, abuse of social media etc.
Chapter 1
***This is only a summary, to help with revision, so candidates should ensure they read and understand the entire novel before the exams***
A family of six awaits the arrival of Daddy. While they wait, Bint gives an account of her classroom encounter with her intrusive Social studies teacher, Mallam Salihu, who is known to act as though he knew a bit more about every subject as he will often ask questions outside the subject of discussion. Bint narrates how she genuinely handled a similar occurrence leaving the teacher dumbfounded by her question while the pupils cheered and laughed
Ummi is seamlessly proud of her daughter, particularly, Bint's intelligent approach to issues and she joins in the discussion right before Omar joyfully announces his admission to study law at the Ahmadu Bello University. As the family gather to celebrate Omar's success, Omar boasts of his achievement and takes pride in solely overcoming examination challenges and several other entry procedures while seeking admission into the university. Ummi recognises her son's naivety and tries to enlighten him about the life-changing capability of university admission.
Ummi tells her children how her admission changed her.
NOTE: Also added to the novel are the following;
– Background, Language/Structure of the novel: The Life Changer
– Theme of the novel (inside chapter 9)
– Settings of the novel (inside chapter 9)
– Characterization (inside chapter 9)
If your version of the app does not have the above additions, simply open the app while having your internet activated to apply the above updates.